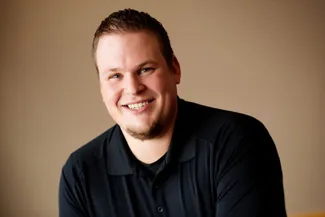 My chiropractic journey began when I was young. Since I grew up in a chiropractic family, I thought chiropractic care was the norm for health care. If I had a head ache, I got adjusted. Ear infection? I got adjusted. Cold? Flu? You guessed it, I got adjusted. I saw how my dad was able to help his patients live healthier lives through chiropractic care, I saw the appreciation they gave him, and I knew that I wanted to follow in his, and my grandfather's, footsteps. At that young age, I took for granted the benefits of regular chiropractic care, after all, didn't everybody get adjusted? As I got older and became involved in sports, I developed a whole new appreciation for the effect of regular adjustments. Although I accepted chiropractic as a way to keep me pain free and healthy, I never truly understood the function of our nervous system and what chiropractic did for it. My lightbulb moment didn't come until I was already studying pre-chiropractic in college. I had developed a cyst in my throat and had to have it surgically removed. Weeks after the surgery, the cyst returned. I was home on summer break at the time and was unsure about what this meant for my future health. Luckily, my dad started adjusting my C5 vertebra twice a day at first, and then daily for over a month. As time went by, my cyst began shrinking until it was completely gone, all within my summer break! That is when I realized the healing abilities of our bodies and the power of a fully functioning nervous system. I knew with full certainty, I had chosen the right path.
After studying biology at The University of Iowa, I enrolled in the doctor of chiropractic program at Palmer College of Chiropractic in my hometown, Davenport Iowa. During my studies at Palmer, I found myself gravitating towards the specific approach of the Gonstead technique. While in my last year, I began attending Gonstead seminars and started my focus on improving and perfecting my Gonstead adjusting technique. In June of 2007, I graduated as the first fifth generation Palmer graduate in the world.
When I am not spreading the word of chiropractic to others, I like to hunt, fish, camp, and follow my beloved Iowa Hawkeyes. I am very supportive of athletics and have coached both high school football and track. I remain close with my family and also enjoy spending time with them.
I get adjusted weekly to keep my nervous system fully functioning, and I have recently formed the habit of exercising daily to help further my own health. I believe I am doing exactly what I was put on this earth to do. I am passionate about helping others live healthier lives by giving them specific hands-on chiropractic adjustments. Thank you for taking the time to visit our website. I hope to help YOU achieve your full health potential!